RicardosArt37 - Ricardo Penalver Art Collections
Shop for artwork from RicardosArt37 - Ricardo Penalver based on themed collections. Each image may be purchased as a canvas print, framed print, metal print, and more! Every purchase comes with a 30-day money-back guarantee.
Artwork by RicardosArt37 - Ricardo Penalver
Each image may be purchased as a canvas print, framed print, metal print, and more! Every purchase comes with a 30-day money-back guarantee.
Ricardo Penalver (1937-1995)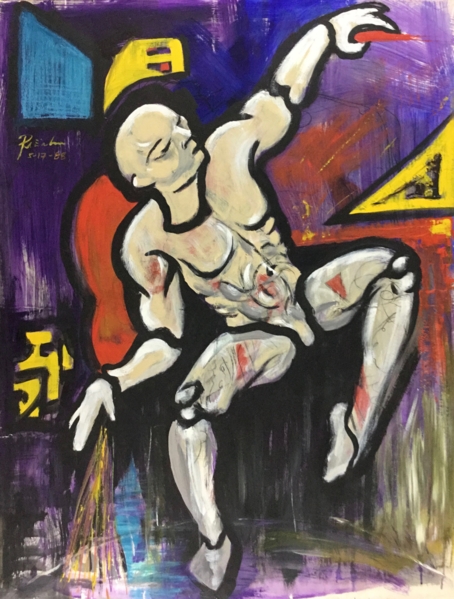 Brilliantly eclectic painter, Ricardo Penalver dedicated his entire life to art! He was self-taught and was greatly influenced by several of the masters who preceded him. His style pays homage to a diverse group of artists, including Van Gogh, Goya, Picasso and Dali to name a few. He adeptly incorporated elements reminiscent of their works into his own while establishing and maintaining a style that is uniquely Penalver.

Born April 4, 1937, in San Antonio, Texas, Ricardo Santana Villenueva Penalver (Pen-yal-vair) is the quintessential surrealistic artist of his generation.

In the 60s and 70s, social change and activism imbued the collective consciousness of our nation and those ideals were vigorously embraced by millions among its under thirty population. The San Francisco Bay Area was the center of it all and Ricardo was inspired.

He channeled his intelligence and artistic talents toward his painting. He sold his art successfully and commissioned his work. He created artwork, posters and street flyers for musicians like Miles Davis, Cal Tjader, Mongo Santamaria, Malo, Santana, Luis Gasca and for his company; Huracan Productions.

He was anti-war, pro-civil rights and he championed social issues. He was a drug and alcohol counselor, a wise teacher and was a friend and ally to George Moscone, Mayor of San Francisco and California State Senator.

Fate dealt Ricardo a tragic and defining blow in the summer of 1979. On August 11th his life was permanently altered. In a senseless act of violence with devasting consequences Penalver was shot and robbed while trading gold bullion in San Francisco. Ironically, the artist who deplored violence while devoting his energies to peace, dance and art was rendered a paraplegic.

His catastrophic spinal cord injury altered his reality. No longer able to dance or maintain his previous level of activism, only one channel remained as an outlet for his boundless passion - his art! By virtue of his tenacity, he taught himself to paint left-handed and with the help of bush extension he was once again able to paint large works of art.

In later years, Ricardo said the devastating tragedy had "confined him to his destiny". Thus began an astounding and prodigious outpouring of remarkable paintings.

His art is testimony to his wit and playful sense of humor, yet it elevates our consciousness and opens our minds to a universe full of possibilities. It attests to the human condition; the pain, the joy, but most of all the glories and resilience of the human spirit.

2020 Finesse Your Face - Masks by Penalver
2019 RicardosArt37@pixels.com
2019 Instagram #ricardosart37
2019 RicardosArt37.com
2019 Affordable Art for the World - Fine Art America - RicardosArt37 Gallery
2018 Woolsey Wildfire 6 major Penalver paintings destroyed in fire; Mask, Spring Wizardry, Body of Spheres, Para Ti, Mastery and Magnificent Sphere Power
2006-2009 Owls Pals, ancillary merchandise; stop motion animation film, education program
2005 Owls Pals, Benefit Childrens Hospital and Regional Medical Center of Seattle
2004 Pen's Pals Soft Sculpted Owls, Toys for Tots, Bellevue
2003-2004 Pens Pals Soft Sculpted Owls, More than just stuffed toys ... They Are Art!
2002 Pens Pals Calendar, California Governors Committee for Employment of Disabled Persons
2002 KPIX-TV CBS, San Francisco, Pens Pals Public Service Announcements for the California Governor's Committee for Employment of Disabled Persons
2001 ABILITY Magazine, Portrait of an Artist - Ricardo Penalver - A Seated Man Dancing
2000 ABILITY Magazine, Thank You to Microsoft for Petite Penalver Holiday Gift
2000 Christopher & Dana Reeve, Personal Communique of Thanks for Seated Man Dancing by Ricardo Penalver
2000 Microsoft, Holiday Gift; Seated Man Dancing, Petite Penalver, Limited Edition Lithograph
2000 Artemis Gallery, Seattle
2000 RicardosArt.com launched 1998 Alexa Bryson Art, LLC, Bellevue; founded to promote and celebrate the life work of Ricardo Penalver
1995 Ricardo passes
1989 One Man Show - Alexa Bryson Gallery, San Anselmo
1979 Ricardo is robbed, shot and paralyzed. He will live the remainder of his life as a paraplegic
1979-1975 Friend and Liaison of George Moscone, Mayor of San Francisco and CA State Senator
1978-1979 Interpreter, San Francisco General Hospital
1976 LULAC Foundation Opening Ceremonies, Poet, Dorinda Morales dedicates La Nina Lina en East LA; Penalver Power to Ricardo Penalver - The Chicano Moratorium, East LA
1976 Artist Studio, LULAC Foundation, San Francisco
1976 PenAlexa Studio, San Francisco, Affordable Art for the World
1974 Miles Davis Poster, Keystone Korner, San Francisco
1974 Captive Arts Gallery, Sausalito
1974 Nanny Goat Hill Gallery, San Francisco
1974 KPIX-TV CBS, Solesvida, Marcos Gutierrez, San Francisco - Set Designs - Logo
1973 Cal Tjader Posters & Handbills, San Francisco
1973 Great American Music Hall, San Francisco, Luis Gasca & Mongo Santamaria Poster
1973 Jacaranda Gallery, San Francisco
1973 Huracan Productions, San Francisco
1972 Fantasy Records - Malo - Producer - Logo Design
1972 KEMO-TV, San Francisco - Set Designs
1972 Garfield Park Music Festival, Poster, Art Show, San Francisco
1972 Orphanage Club, Mural, San Francisco
1971 KRON-TV NBC, San Francisco - Set Designs
1971 The Chicano Moratorium, East LA
1970 Horizon Project, Treatment Director, City of New York, under the direction of Mayor John Lindsay
1969 Discharge and Release from Superior Court of the State of California in and for County of Los Angeles
1966-1969 Synanon - Counselor
1961-1965 Vice Chairman Inmate Council, San Quentin Prison
1960-1961 San Quentin, School
1957-1959 Soledad Prison, School; Violation of Section 11500 of the Health and Safety Code; Marijuana
1953 Golden Gloves Welterweight Champion - Texas
1937 Born San Antonio, Texas April 4th

RicardosArt37 was created by Alexa Bryson to share Ricardo's masterful art and brilliant imagination with us and to fulfill their dream of Affordable Art for the World! Ms. Bryson has faithfully dedicated herself to his creative genius. This is their story of love and her dedication to Ricardo and his art!